Sustainable development ensures a better future for everyone and we all have a significant role to play – as individuals and organisations. Businesses are taking steps to be more accountable for their environmental impact. These steps extend to looking into how meeting spaces can be made eco-friendly using technology designed for hybrid working. As a supplier and Ireland's only Gold Partner of Barco products, System Video are happy to provide our customers with ClickShare solutions, creating better and greener meetings.
Barco's way of measuring their environmental impact.
ClickShare devices offer seamless wireless presentation & conferencing – while being a sustainable technology choice for your meeting rooms. All ClickShare devices are designed in an eco-friendly way. Barco are continuously looking for ways to improve energy efficiency, durability of materials, renewable packaging and life span of their products. All ClickShare products now recieve an A-label in the Barco ECO-score.
Energy Efficiency: ClickShare products are optimized for energy efficiency. The base units comply to strict requirements for standby mode; saving energy and reducing emissions.
Material Use: Barco are careful with the material they use to make ClickShare devices; choosing non-paint plastics and opting for halogen-free PCB. Every ClickShare uses up to 30% of recycled materials.
Packaging: ClickShare are packaged in recyclable sugarcane packaging. Sugarcane is a renewable resource and biodegradable in the matter of months, so it doesn't contribute to pollution and waste. Packaging is kept as light as possible, and shipments are done by ship which reduces carbon footprint.
Design for recycling: During the design stage, Barco developers keep in mind the end of life of a product. All their products can be disassembled easily, making them easier to recycle. ClickShare's Trade In Program allows old ClickShare devices to be returned in exchange for big discount on a new device. Barco make sure all materials are reused or recycled correctly.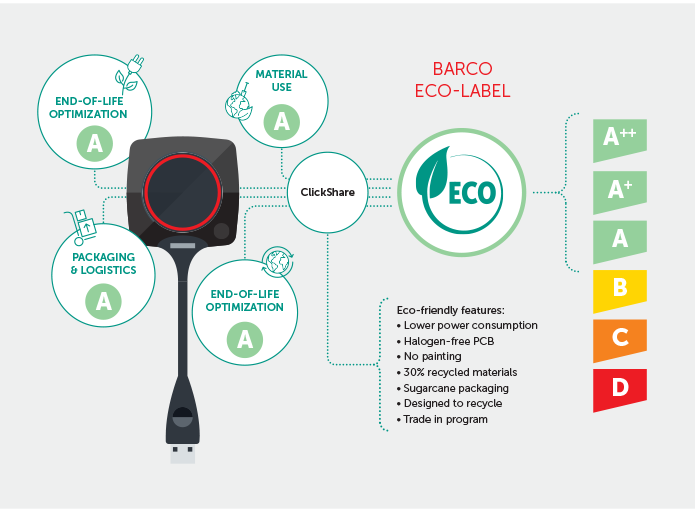 Greener technology for how we work now
Technology that is designed for how we work now must be efficient, flexible, easy-to-use and secure. Technology choices can also reflect sustainable efforts being made in the workplace. Producing technology has an impact on the environment, but businesses can choose greener technology and AV technology manufacturers who aim to produce technology with a lower environmental footprint. Future-proof solutions like Barco ClickShare make sure the choices you make for your hybrid meeting spaces are eco-friendly.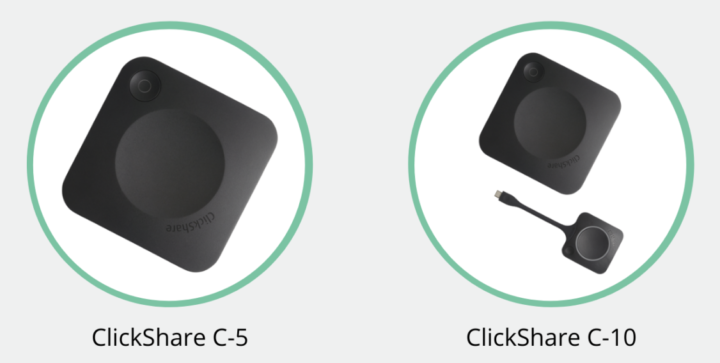 Trade in your aging ClickShare device for the latest and greener ClickShare generation.
Get in touch with the System Video Team, we can recommend energy efficient and greener Audio Visual Solutions for your business.