All hands on deck
Event space and all hands spaces are unique, inclusive gathering places where everyone in a company can come together to hear updates from the management team, mark a major milestone, celebrate wins or spotlight big achievements within the team. An auditorium fitted with 4×4 flat-panel display, or a video wall, can turn every meeting into a mini-TED talk.
Playing to the gallery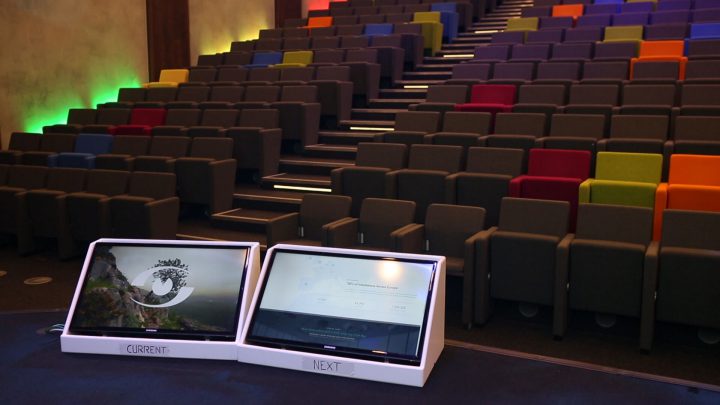 Incorporating high-quality video and audio is a great way to ensure that everyone attending is fully engaged with the speaker. With the addition of conferencing cameras the space becomes a broadcast studio. Many System Video clients use these spaces to film local managers or visiting executives, and beam their message beyond those that are present, to other offices over IPTV.
Collaboration and hybrid working
Create safe, modern and flexible environments for the new business set up; hybrid working. Elevate collaboration for remote and in-office employees by designing spaces equipped with AV technology that allows people to connect.
Setting the standard
System Video has many years of experience working in demanding environments and fitting out venues to the exacting standards, and we bring this knowledge to bear on all of our projects.
Get in touch with our team to see some of the impressive event spaces we've worked on.