As businesses start preparing their offices and buildings for returning teams and visitors, by planning ahead and investing in smarter technology, your teams can focus on working safely and efficiently in the office. One way to do this, is starting with a refresh of your AV technology to adapt to hybrid working. Touchless AV technologies are providing ways to create safe, modern and flexible work environments. Keep reading to find out more about how you can update to touchless AV tools and solutions.
1. Digital Signage
Communicate easily with your employees and customers using digital signage. Display important messages to people entering your offices or buildings, reminding them of social distancing and the requirement to wear a mask inside. Avoid large gatherings in lobbys and retail spaces by displaying estimated wait times or sign-in procedures.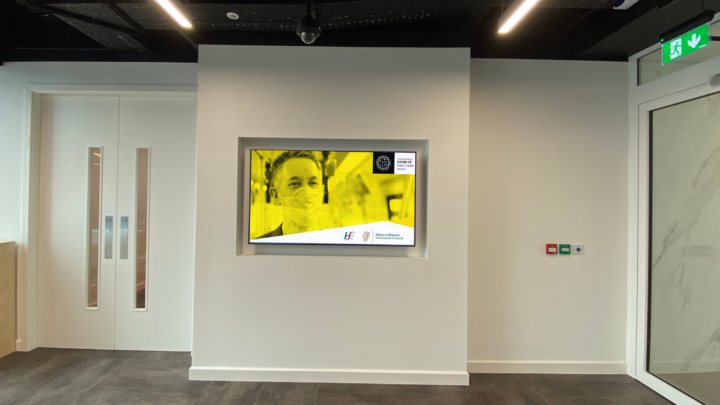 2. Touchless Sign-In
At System Video's reception, our team are required to check in and out of the office using a temperature scanner with facial recognition. By doing this, we can monitor current building capacity and identify any potential risks of infection.  Touchless sign-in methods are one of the simplest ways to address the new requirements of working with COVID restrictions. Get peace of mind knowing exactly who is when and where.
3. Voice and mobile app activated meetings
Reduce the touch points and prevent spread of infection in meeting and conference rooms. Voice activation and launching video conferencing apps from your mobile device onto the meeting room's AV systems are just some ways to practice safer ways of working in the office. These functions are available on video conferencing platforms such as Zoom Rooms and GoToMeeting.
4. Wireless Presentation
Reduce high tough-points and save time setting up meeting room equipment with Barco ClickShare. With one click, improve productivity and instantly share and collaborate with your colleagues. Once your ClickShare base unit is installed in your meeting room, you only have to set this up once and from then, just plug in your ClickShare button and start sharing immediately. In a ClickShare Conference environment, you can enjoy full cross-platform compatibility with all Unified Communications and Collaboration platforms. Last year, Clickshare added the ability to start a meeting from your smart-phone app using the virtual ClickShare button. Try Free for 30 days.
5. AI cameras and microphones

Logitech Rallybar launched an impressive new AV product (available soon), with an all in one solution and Ultra HD camera with resolutions up to 4K. One of the most notable features is the AI viewfinder, the second built in camera automatically adjusts, reframes and includes people stepping in and out of the room. It also has the ability to count meeting participants, track room occupancy and upload insights to the management dashboard. Other smart meeting solutions like Cisco Webex Room Kits are designed with automatic noise suppression to reduce disruptive sounds coming from the meeting room. The system also has automatic wake-up when someone walks into the room and recognizes them through their smart-phone. Products like these are a perfect example of how we are learning to adapt to hybrid working.
Maintaining and managing your AV Systems for safe working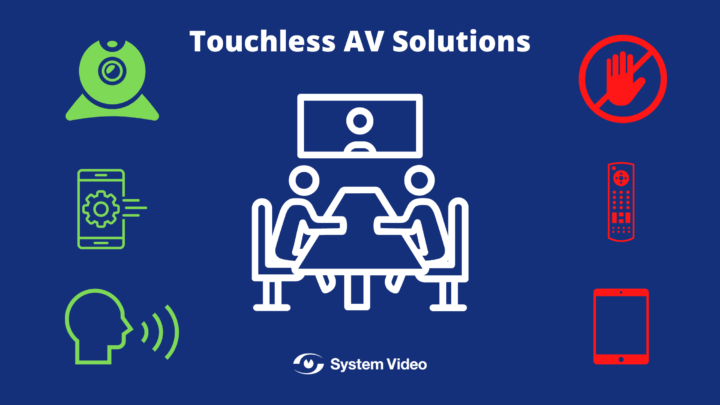 The less people touching and sharing devices, the safer and more efficient your AV systems will be. Avoid setting up meeting room equipment every time you need to use it. Your integrated systems, cameras and devices should be already positioned so you save time and avoid too many members of your team touching controllers and tablets. When wiping down screens or controllers, remember to always use suitable anti-bacterial sanistising screen wipes. We recommend designating a tech savvy or IT team member to manage meeting room devices and settings. When our Maintenance and Service team are on site during handover, they provide full training on your systems and recommended settings to use. Our team are easily available with full customer support should you run into any issues after installation.
---
As an experienced and qualified AV integrator, System Video can review your existing AV technology and systems, and recommend updates and touchless AV solutions suited to your business. Get in touch with our team to learn more.