Digital signage and displays come in all shapes and sizes. For all forms of content. In the cafeteria; a multipurpose 'all hands' space or a presentation room… the same display technologies apply whether it's the CEO addressing the team, or to broadcast content from other parts of the company network.
Multiple Screens – Multiple Sources
Multiple flat panel displays in sizes from 42″ up to 98″ can be installed throughout an installation. Video sources are distributed to (literally) any number of screens throughout single rooms, multiple rooms or multiple floors.
Even multiple sources distributed to all or select screens is easily achieved and very effective – some screens showing the live video while others show the presentation.
When Size Matters
There is a trend is to go bigger and bigger – and video walls fit every bill. Stunning to look at and easy to maintain, video walls are ideally suited to areas where groups like to gather. Available in 3×3, 4×4 or entirely different screen configurations – as the available space or requirements dictate.
Large format displays make any space a vibrant and vivid riot of moving images, colour and sound, and with sizes of 85cm and up, a video wall doesn't go unnoticed. What's more, the latest developments in LED technology offer crisp, flat images, high brightness and crucially, low cost of ownership.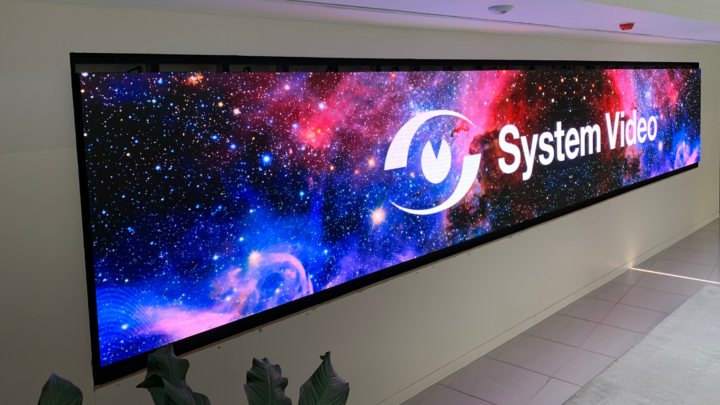 System Video matches customer requirements and expectations with tailored audio visual offerings. We have extensive experience of working with a range of providers including Samsung, NEC, Panasonic, Barco, LG and Leyard. Other display technologies include front and rear projection; LCD screens; LED walls; collaboration walls; digital signage and interactive screens.