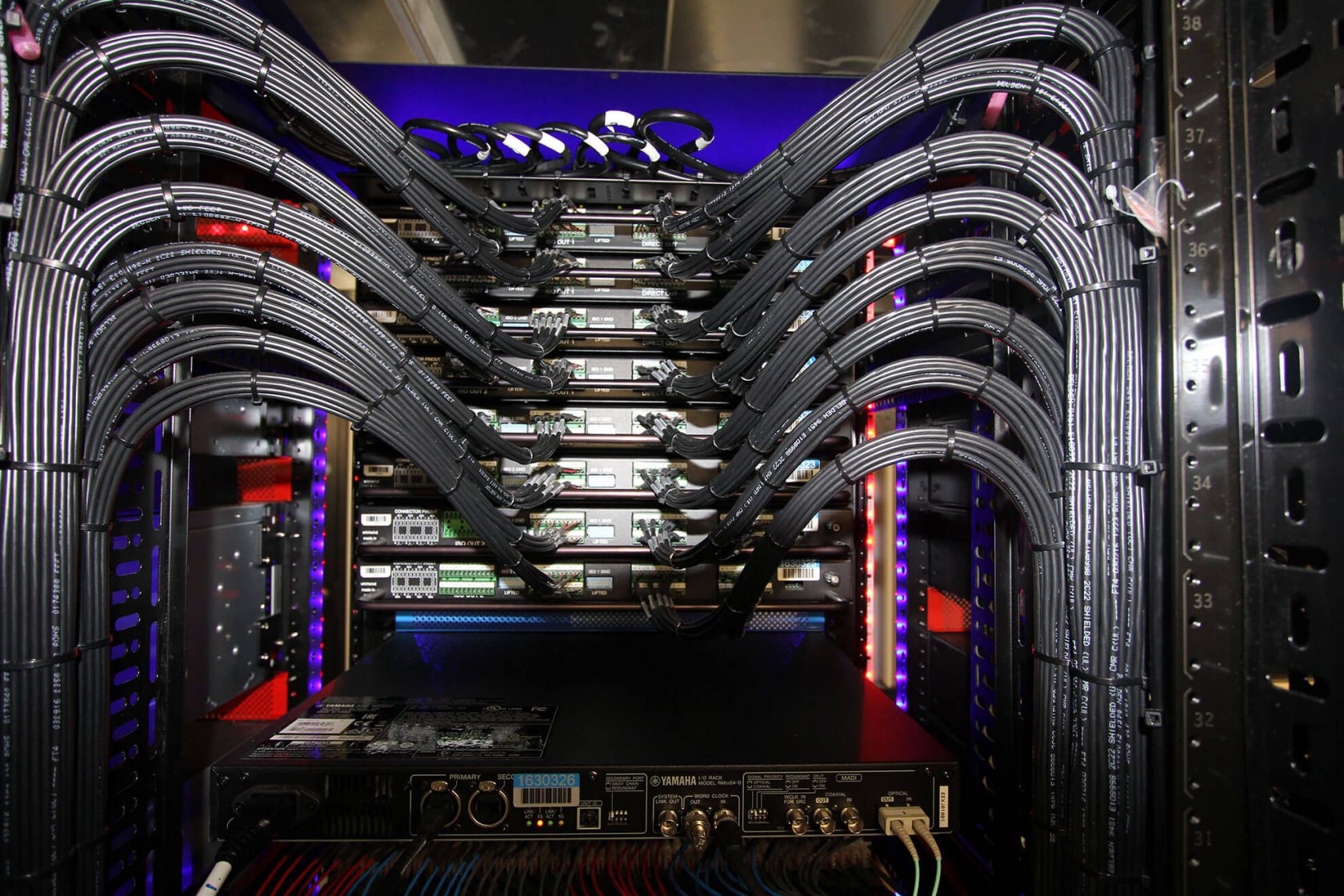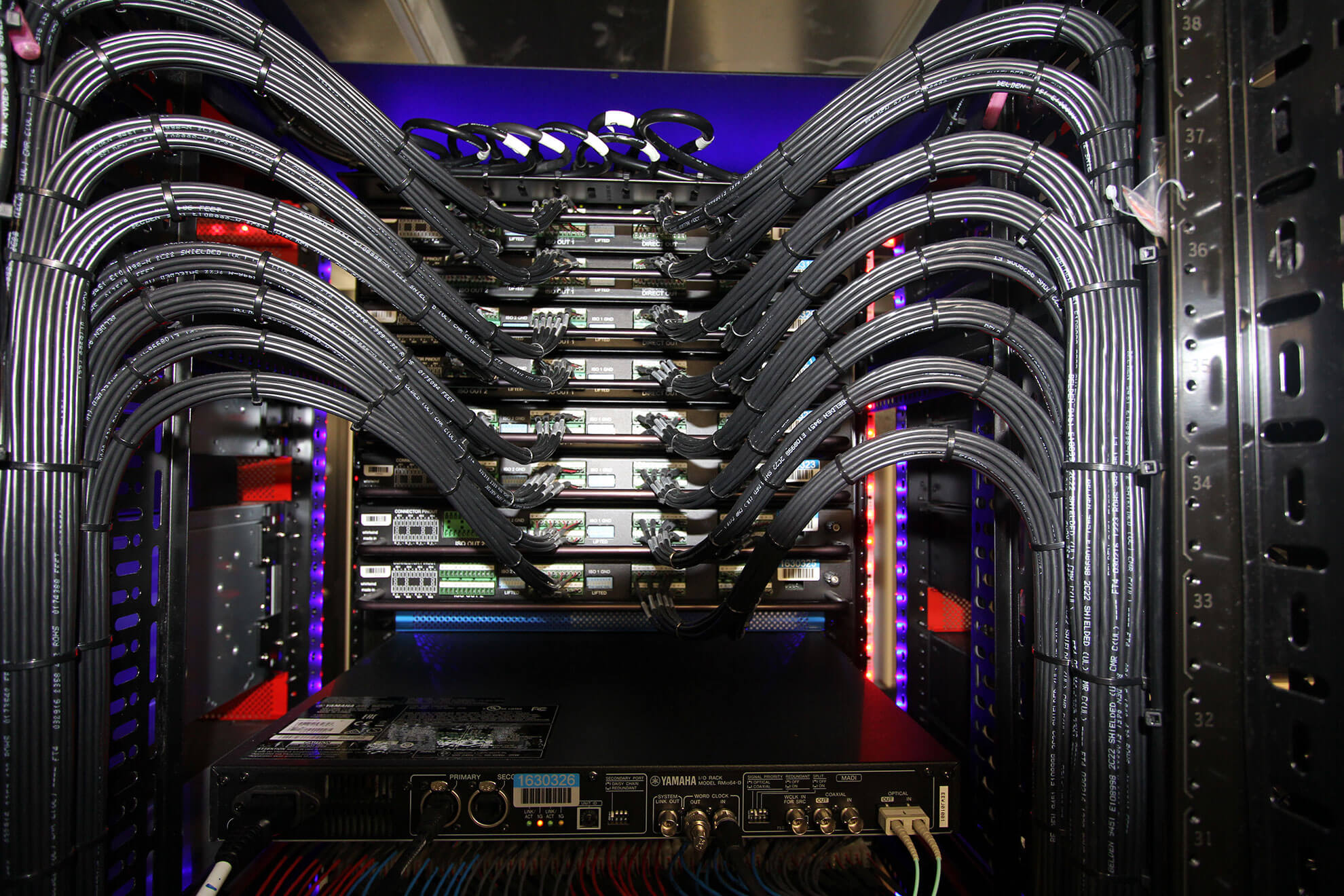 Audio Video Installation Specialists
We're obsessive about the details of audio video installation. We love paying attention to cables, labels and looms, but it's also got a practical purpose: taking care of the smallest aspect of every job ensures the big picture takes care of itself.
Professional audio video installation
We pre-build racks to the highest level at our in-house installation facilities. We also test and program equipment in advance, and every part of the system is checked before it leaves our labs — minimising the time required on site. When the time comes to deliver and install equipment at the customer's premises, we guarantee a professional, precision-engineered service and AV technology that works right first time, every time.
We only use our own fully trained engineers who are regularly trained to the latest vendor certifications, and we're continuously improving our processes to keep delivering a high-quality service. Working from our precise layout charts, our engineers aim to reduce any possible disruption to our customers' daily business.
Installing AV around the world
Installations big and small, we've done them all, from single screens in meeting rooms, to all-hands event spaces for multinational companies. Whatever the AV installation job, our approach is always professional and centred on what your organisation needs. That said, there's a lot more involved in an integrated event space install, with audio, visual and remote systems all needing to work in glorious symphony. It's what we do, day-in, day-out, right across Europe, for start-ups, SMEs and multinationals.
Checked, tested and installed with peace of mind
From digital screens in a lobby and connected huddle areas, to room scheduling and event spaces, we ensure every av system installation we perform is checked and tested before being signed-off for use. Our certified technicians test each component in our lab, install it and test it again, ensuring all you have to do is connect and collaborate. We engineer and test all of your equipment before installation day so we can complete the work with minimal disruption to your business.
Designing your perfect AV system
Audio visual installation starts long before we arrive on-site – an installation should simply be the execution of a well thought-out design and plan. Our team of AV specialists collaborate closely with your project leaders, architects and end-users to establish and create the AV system that your business needs. Our engineers then use their years of AV installation expertise to install your system quickly and efficiently for perfect first use.
AV system installation and maintenance
We may believe in delivering an 'install and go' service so you can get straight to work, but that doesn't mean we leave you high and dry. We'll be there after installation to provide any training so you can make the most of your new audio visual tech, and on-call from then on for any further assistance. We can even provide on-site technicians, if you're organisation is particularly dependent on AV technology. We're proud of our long-term customer relationships, many of which stretch back decades.
Over 30 years of AV installation experience
We're all about working with you to ensure we install the right equipment for the presentations, meetings and collaborations you need to deliver. We've been installing AV kit for over 30 years, we've seen all types of buildings, delivering solutions for one-man bands, SMEs and multinational household names.
Because of this, we know how to ensure your AV system integrates into your architectural plans, whether we're retrofitting or you're moving into a new-build. Sight lines, projection lines, screen sizes, mono speakers, stereo speakers, wireless mics, tracking mics, lighting and control, we take care of it all, so it just… works, time and again.
With 30 years in the business, we believe we've perfected the art of AV design and installation. And our clients agree.
Working safely and responsibly during COVID-19
Our certified and experienced engineers stay safe whilst working, adhering to social distancing and wearing masks on site. Any of our team travelling abroad for installations, self-isolate for 14 days on their return home. Providing the client and our teams with peace of mind and the ability to get on with the work we do best.