The pandemic has forced us to rethink how we use office spaces. Once vaccinations have been widely distributed around the world, a glimmer of hope to the office return will appear. Many will have changed the layout and functionality the office provides for its teams. The work space is being revolutionized. The demand for more Huddle Rooms is one trend we've noticed among our own customers, as part of rethinking how we use office spaces. 
Office spaces and cooperation spaces are still needed. According to Barco's 2020 global workplace study, employees ideally want to be in the office for 2-3 days out of the week and spend the rest working remotely. The hybrid approach appears to be the future model of workplaces. However, many employers will still offer permanent remote working. So how do we make this new business set up work?  By creating and providing flexible work spaces for your teams. Technology plays a major role in modern workplaces progressing with these changes.
Know who is where and when
It's unlikely teams will return to the office at full capacity. Business leaders will bring their teams back gradually and find out what works best for them over time. Crestron Room Scheduling allows you to manage and know exactly who is where and when. Zoom Rooms have just launched an impressive new collaboration device, Neat Bar; detailing the occupancy, oxygen capacity, temperature,and air quality of the room in use. The product will be available later this year. Innovations like this will become more common practice as we keep learning to adapt.
Touchless and Wireless meetings
Voice activation and launching Video Conferencing Apps from your mobile device onto the meeting room's AV systems are just some ways to practice safer ways of working in the office. Or Bring Your Own Meeting (BYOM) with Barco ClickShare and turn any room into a hybrid collaboration room. Reduce high tough-point areas and save time setting up meeting room equipment with Barco ClickShare. Once your ClickShare base unit is installed in your meeting room, you only have to set this up once and from then, just plug in your ClickShare button and start sharing immediately. By planning ahead and investing in smarter technology, your teams can focus on working safely and efficiently in the office.
Flexible spaces for in-office and remote workers
Huddle Spaces are a great way of including remote workers over video conferencing, which isn't always possible in large meeting or conference rooms. Providing a type of face-to-face interaction is so important, to strengthen relationships with team members and customers whilst we can't meet in person. Impromptu and ad hoc meetings are made possible by reinventing the work space and creating a flexible environment. Equipping huddle rooms is more cost effective compared to designing and installing audio-visual systems and furnishings for large meeting rooms. Making it viable for all business sizes and budgets.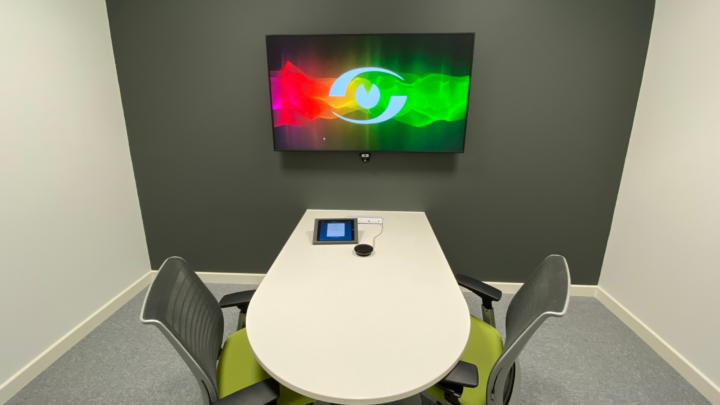 ---
Where large meeting rooms may not be appropriate to gather your team (for now).
Huddle Spaces create flexible work spaces to suit your current and future business model.
Thinking about reshaping and refunctioning your work space?
Get in touch with our experienced consultants to learn how System Video can tailor audio visual solutions to match your requirements and expectations.