As more people switch to remote and flexible working, office spaces and "meetings" are being radically transformed. Business leaders must adapt to current challenges to ensure maximum productivity and efficient ways of working. Video conferencing has become essential to our daily work routine. In a hybrid workforce, video conferencing enables ideation and collaboration across distributed teams, locations, and organisations.
It's no surprise that video conferencing has been one of the #1 Tech investments this year.
Being able to adopt collaboration technology is more important now than it ever was before. Future growth depends on investing in the right collaboration tools and technology for your workforce.
A new hybrid meeting takes the lead in current workplace collaboration, significantly driven by high-end video technology.
Working from home over the past year is beginning to take its toll. Employees miss socialising with their team and customers. Businesses are looking for technologies that will enable a safe and productive work environment. Although the office return is not imminent in some parts of the world, organisations are implementing solutions for hybrid working. The hybrid approach is the realistic structure of future business set ups. Organisations are trying to find the right balance between employees working partly remote and partly in-office.  Companies are preparing their offices for the new meeting structure centered around video conferencing , helping to create in-office and remote meetings as engaging and co-operative as face-to-face meetings. Businesses are gradually making the shift to hybrid working and examining what technology will help move them forward and provide easy collaboration.
Finding the right tech for your business can be difficult. Looking at areas that cause friction to you and your employees is a good way to start. Irrespective to business size and its nature, the coronavirus pandemic has forced organisations to examine how their teams collaborate and work at a distance. Fortunately, there are many collaborating solutions available – to fit your business size and budget.
Turn any room into a hybrid collaboration room with Barco ClickShare
Our partners at Barco offer an award-winning collaboration tool, turn any room into a hybrid collaboration room with ClickShare by Barco. For easy collaboration, wherever your team are based. Engage both remote and in-room participants. Wireless presentation and conferencing technology saving you time and allows people to interact easily and naturally. Works seamlessly with your laptop, your conferencing platform and your preferred USB camera, mic and speaker. With two ranges there is a ClickShare Solution for businesses of all sizes and all budgets.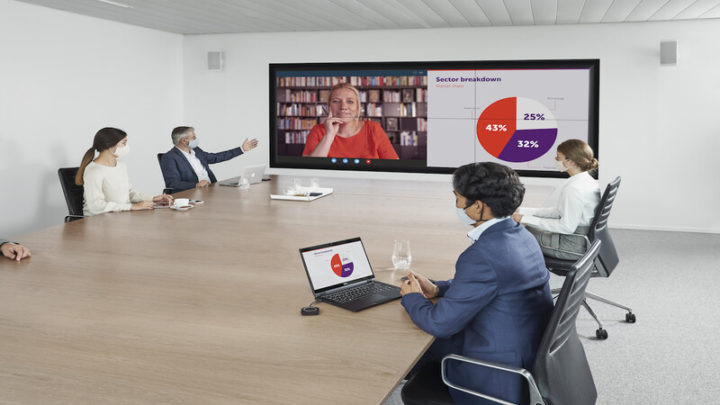 Touchless and wireless meetings
Reduce high tough-point and save time setting up meeting room equipment with Barco ClickShare. Once your ClickShare base unit is installed in your meeting room, you only have to set this up once and from then, just plug in your ClickShare button and start sharing immediately. In a ClickShare Conference environment, you can enjoy full cross-platform compatibility with all Unified Communications and Collaboration platforms.
Bring Your Own Meeting (BYOM) with Barco ClickShare and turn any room into a hybrid collaboration room. Wireless collaboration and conferencing solutions like ClickShare Conference make the laptop the central hub of the meeting room. Meeting participants can easily use their preferred conferencing platform and use existing meeting room peripherals like audio, camera and screen for more intuitive and engaging meetings for both in-room and remote participants, without the need for additional wires or difficult software installs. The transition from the home office to the workplace can be smooth, it's all about making sure that your office video calls are just as intuitive as the calls you have at home.
Get in touch with our team to find out more about Clickshare.